Topic: Geared Up Model
Conf: News & Announcements
From: Piotr Tyminski (kefir@pol.pl)
Date: Wednesday, May 31, 2000 01:40 AM
Both MW types were made exclusively for the Red Army. They were
considered too good to offer them to satellite states of Warsaw Pact
(I've never came around any of them during my two year's army service,
neither has any of my friends). In fact their existence was hardly known
outside Red Army.
MW-750 is a direct descendant of excellent German BMW-71. The first
effect of reverse engineering was M-72 which later evolved into various
types of K-750 (or K-750W as used by the army). In the 50's Kiev
factory started to work on an exclusive military version of a motorcycle
codenamed MW-750 which should offer "increased capability of driving in rough terrain". MW-750 was produced from 1964 till 1973, MW-750M from 1973 till 1976 and from 1976 they switched to a new MW-650.
Some technical data:
26 horsepower (MW-650 32 horsepower)
gearbox 4-speed + reverse sidecar drive ALL TIME 2WD WITH differential (MW-750 with blockade) - not like the current "geared-up" Irbit Urals where you can only drive straight when sidecar drive is engaged! sidecar brake (MW-650 only) circuit 6 volt (MW-750 12 volt)
accessories: pilot lamp on a sidecar (some MW-650 only), 10l fuel
canister, entrenching tool set (shovel, axe, small entrenching tool) all
fitted on both sides of the sidecar, toolbox/ammo box (sometimes two)
fitted on the sidecar, front and rear sidecar mounting for a machine gun,
mounting for driver's AK assault rifle inside the sidecar, mounting for
spare ammo boxes and/or spare Diegtariev rounds behind the seat,
special eeehm... (don't know the English word for it - "strut" maybe?)
thingies on the wheels which keep the wheel "driveable" even when you
blow all the spokes, socket to power external lamp or radio station, light
dimmers, etc.
Armament is Diegtariev machine gun (MW-750) or 7,62 mm PK (MW-650) or, sometimes, AK assault rifle with a bipod (Czech AK version). Additionally there should be a "regular" AK inside the sidecar, too. Most of my friends driving MWs have the proper "toys" fitted although we do not run around with them every day, for obvious reasons.
BTW, why not visiting Poland to see them yourself? There's a yearly
meeting of owners of military vehicles in June every year (23-25 this
year) on a Baltic seaside in Darlowo. People come from all over Europe
(and world, too) and we have three days of incredible fun driving in
Mars-like terrain. Lots of tanks (ever wanted to try a Leopard?),
armoured vehicles, trucks and, obviously, all military motorcycles you can
name. Mostly WW2 stuff. And you can get real bargains there, too.
MW750 - my friend Jack's rig.
You can see Diegtariev machine gun there

---
MW750 - another snapshot of Jack's MW-750

---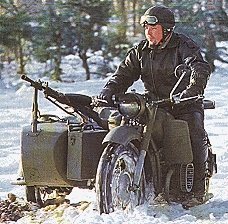 ---

(below)
MW650- A snapshot of my MW650.
The most expensive part is a ballast in the sidecar - it's my wife.

---